The Slow Fade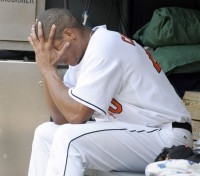 It seems to have arrived without much fanfare, like it snuck in after dark while everyone was sleeping or drunk. By morning we had already adjusted — a matter of habit — and there it was. Comfortable. A well-known quantity.
Swoon.
Now here we are, about to close a homestand against baseball's best team on a Sunday…with Brandon Fahey in the leadoff spot and Garrett Olson on the hill. The last ten games have seen us go 3-7, dropping the record to 48-55 and leaving .500 a distant memory at best. Or, to put it another way, the Lost Season is definitely, assuredly, back.
Which is OK. Really. This team gave us three+ months of competitive play, which is more than anyone expected. The Plan is still in place, and a quick glance down to Bowie and Frederick lets us know that hope is by no means lost. It's just going to take awhile, as expected.
In the meantime I hope they keep hustling and making things interesting. I figure they will.
(Sun photo by Lloyd Fox / July 24, 2008)