TLC Book Club: Baseball Field Guide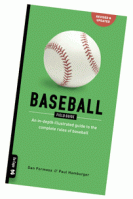 I got an email a week or so ago from a fellow named Sean, who works for Da Capo Press. Sean wanted to see if I'd be interested in checking out a copy of the Baseball Field Guide, to which I naturally responded with "absolutely." He dropped it in the mail, it arrived today.
Originally I figured I'd take a look and maybe mention it in the comments or as a tack-on to the next Open Thread. Now that I've seen it, though, it deserves a post of its own.
Essentially, the Guide is the baseball rulebook. But saying that doesn't really do it justice. Authors Dan Formosa and Paul Hamburger have taken what should be rather dense and tedious material — useful for reference only — and turned it into something enjoyable to read in its own right.
Utilizing crisp typography (FF Din, I believe) and a wealth of gorgeous infographics — all anchored to a strong, grid-based layout — they've taken the rules and made them engaging and surprisingly satisfying.
The end result is the kind of book I love to have around, one I can just pick up anytime, open to a random page, and enjoy for a few minutes. But that doesn't mean it's somehow watered down — it isn't. The level of detail is frightening, and I've already learned (then quickly forgotten) quite a bit.
My only complaint is that it refers to the "league presidents" several times. In fact, Bud Selig removed the league presidents in 1999 and consolidated decision-making power in the Commissioner's office.
That's a small quibble, though, because overall the book is quite satisfying. I wouldn't hesitate in recommending that you pick up a copy for yourself
.
Which is a relief, for sure, because if the book had sucked I would have felt really bad telling Sean that I wasn't going to mention it.