Who Would You Most Like to Whack?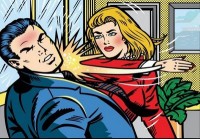 This was the discussion that dominated my appearance with the Fighting Ungers this past Tuesday. Marc Unger came up with a great idea: a seeded tournament, a la March Madness, to find out who is the "Most Annoying, Vile, Hated, Needs to Be Punched Sports Figure Of All Time".
Read his original post on it here.
Hate is a critical component of sports fandom, so much so that I'd argue sports can't function without it. We need to define the "other", to not only have teams and players we are for, but to have those that we are against. And, in fact, it's a concept that extends far beyond sports — the notion of the "other" is a key component of academic culture studies. It is, as you might expect, both a good and bad thing.
This contest, though, is all good. I love the idea of trying to figure out — amongst names like Bonds and Clemens and Woods and Jeter and Coach K — just who most deserves a good, solid whack. I'm way into the idea of having fun with the idea of what we're against in sports, as opposed to the more traditional approach of just whining and bitching and going negative all the time.
The plan, I believe, is to narrow the list down to a field of 64, seed them up, and go from there. So feel free to fire away with your own ideas about both who should be on the list and who would be your Final Four/Champion. Let's see where it goes from there.