A Chink in Trembley's Armor? +Notes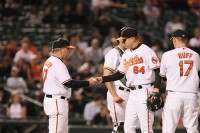 As I hope everyone is aware, I'm a Dave Trembley fan. I like his style and I like his attitude. For the most part, I also like the way he handles a game. More and more, though, I'm starting to wonder about his approach to managing a pitching staff.
Specifically, my worry is that he's locked himself into the idea that starters can't and/or shouldn't go more than six innings and roughly 100 pitches.
I understand it to a point, and that point is Koji's last start. But we're six weeks into the season now and every one of the regular starters is averaging less than six innings per outing (Bergesen is right at 6). In many cases the quick hook has been a matter of performance. But in watching and listening to DT this year it feels like he might actually believe that six innings is just how far a starter should go.
Maybe the game is changing, but I'm not convinced that bullpens are meant to go three innings night in, night out. More directly to the point, this particular Orioles bullpen is definitely not meant to pitch that much.
***
Did anyone else notice that Brad Bergesen was rocking #35 last night? In prior starts (as seen in the photo above), he wore the spring training-esque #64.
This is bad news. The #35 has been cursed ever since Mike Mussina left. Dig this murderers row of guys who've worn it: Josh Towers, the DC Cab, Rick Helling, and Greg Aquino (more from numerOlogy). I really like Bergesen and I hope he can reverse the trend, but sticking with 64 would have been a veteran move.
***
Regarding tonight's game, Jeremy Guthrie is due for a standout performance. He's so far out of whack from his 2007-08 numbers right now it's crazy. His strikeouts per nine innings number is still good (5.6 — he was 5.7 for all of last year) but his walks are up (one every 13.7 batters last year versus one every 7.96 so far this year) and his ERA has soared (5.21 speaks for itself). We have to get the "real" Guthrie back eventually, right?
Maybe it starts tonight in the Bronx. He'll go up against Phil Hughes, which means this is a very winnable game for the O's. Here's to it.
(photo via)