Ace Bailey and Eddie Shore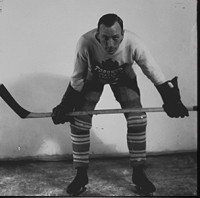 It's Tuesday, December 12, 1933 when the Toronto Maple Leafs visit Boston Garden for a match against the Bruins.
30-year old Ace Bailey skates right wing for the Leafs, and he's a good one. A former scoring champion who played an integral role during his team's 1932-33 Stanley Cup season, he remains a force on the ice despite a recent drop in production.
Eddie Shore, 31, plays defense for the Bruins. He's a rugged man with impressive skills, an iconic and polarizing star with a Stanley Cup of his own on the résumé.
Although the Leafs had eliminated the Bruins in the semi-finals the year before, there's no particular relationship between the two men. They are simply two stars engaged in the game-to-game grind of helping their teams win a championship. Yet their names would, on this night, become linked forever.
Some time during the second period, Shore takes a nasty check. Depending on which account you read it comes from either of two Toronto defenseman: King Clancy or Red Horner. Either way, Shore gets up dazed and with his sights set on revenge. He wants the man who took him out but finds his target, mistakenly, in Bailey.
He delivers a vicious blow that trips Bailey up and sends him head-first to the ice. Bailey starts convulsing, bleeding from the skull. Horner skates in and decks Shore, sending the Bruin to the ice with a three-inch gash in his head. Both Bailey and Shore have to be carried from the ice by teammates. The ensuing chaos runs so deep that Maple Leafs president Conn Smythe rearranges the dental work of a Bruins fan who accused Bailey of embellishing his injury.
Back in the locker rooms, Shore recovers quickly enough to visit Bailey on the visitors' side. He never intended any harm, and he says as much in delivering an apology. "It's all part of the game," Bailey says, before lapsing back into unconsciousness and being rushed to the hospital.
Bailey's life hangs by a thread. Things get dire enough that a priest is brought in to deliver last rites. Boston police conduct interviews, assembling a potential case against Shore for manslaughter. Bailey's father grabs a handgun, takes a train to Boston, and starts making inquiries as to Shore's whereabouts.
Then, somehow, things changed.
Bailey made the kind of recovery Hollywood screenwriters don't dare dream up (although his playing days were over). Shore's indefinite suspension was lifted and he returned to the ice. The NHL community rallied to Bailey's side and staged an All-Star game for his benefit, the first such contest in league history. Bailey and Shore met at center ice, shook hands, and closed the book on their incident for good.
Every sport has its unwritten rules. How and when to pitch inside and hit a guy, what's "dirty" and what isn't in the scramble for a loose ball. Where the line is drawn between gamesmanship and something more serious. What's personal and what isn't. These rules are necessary because at any moment — no matter how innocuous it might seem — the threat of real loss hangs over the contest.
Ace Bailey and Eddie Shore weren't the first pro athletes to buy tickets to that dance and they weren't the last. Just ask Kermit Washington and Rudy Tomjanovich.
The rules tighten, the fines stiffen, and the effort to sanitize pro sports marches on. I doubt we're any better for it.
(Ace Bailey photo via legendsofhockey.net)