Baltimore Sports Media Approval Ratings: Scott Garceau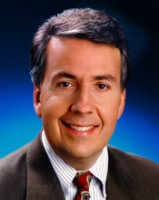 That's right, it's back. The Baltimore Sports Media Approval Ratings have returned for a "hey, have we really not done this since August?" edition.
This week's candidate is Scott Garceau, freshly-minted afternoon drive radio guy, former voice of the Ravens, and former sportscaster for WMAR (channel 2).
Garceau is a longtime veteran of the Baltimore sports media scene who was on the air for a whopping 36 years at WMAR before ending his nightly sportscasts in July of last year.
These days he can be heard weekdays on 105.7 "The Fan", where he helps reign in previous BSMAR poll candidate Anita Marks.
Garceau is a fascinating guy to me because he's such a throwback. His style is dramatically different from what you'd expect for afternoon drive sports talk in 2009, given his propensity for reasoned analysis and a generally cool demeanor. You can probably guess how I'll cast my vote, but does his style work for you?
Vote below and then please elaborate in the comments — everyone is encouraged to provide a reason for their choice. Poll stays open for a week, and the usual rules apply. Keep it clean and cool and don't say anything you wouldn't feel comfortable saying to Scott if you ran into him at a bar.
You can also check out the Sports Media Approval Ratings archives for past results and discussion.
[poll id="11]