BB and the Bear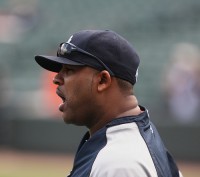 Referring, of course, to Brad Bergesen and CC Sabathia, the starters tonight up in the gleaming monument to hubris that is New Yankee Stadium.
Sabathia, as we know, has historically pitched well against the Orioles (6-1, 2.67 in 11 starts). Opening Day proved, however, that we can have his number when things are clicking. That's true for all the Yanks, actually — the season series is split so far.
I'm more concerned about Bergesen, who seems to be having a little bit of trouble adjusting to the majors. Opponents are hitting .348 against him. It's still early, but that's a tough number to ignore.
Also tough to ignore is the awesomeness that is Adam Jones, who will be back in the lineup tonight.
I won't get a chance to watch or listen to this one as I'm off for a birthday dinner followed by some birthday drinks. Keep things warm for me.
(photo via)