"Birds Bobble a Pennant" (Oct. 1960)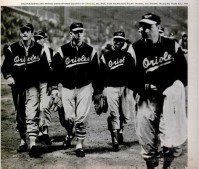 So it looks like we're going to get a Yankees–Phillies World Series. I don't have to pick one, right? Right. Because I can't. While I don't feel about the Phillies the way I feel about the Sox or Yanks (it's not even close), I definitely don't have any love for them. Philly is where the "Northeast Corridor" begins. It's not a bad place but it's a hell of a lot closer to New York and Boston than it is to Baltimore*.
At best I enjoy a tenuous peace with all things Philly. No way I'm going to start rooting for them. I could tune in to root against the Yankees — and I might, once or twice — but that sounds more fun than it is. Most likely I'll sit this one out.
It got me thinking about late-season disappointments, though, and so I dug up this painful-but-interesting account of a brutal October series for the Orioles in Yankee Stadium.
"The Baltimore Orioles, whose talented youngsters have been performing like old pros all season, took their brashness into Yankee Stadium determined to pin down the American League Pennant…"
Read on from there and it gets ugly, but that first line sounds just about right.
Totally unrelated to sports but something I think most of you will enjoy: an essay by Roger Ebert, in which he discusses the literary and cultural scene at a legendary Chicago bar. It's a great piece — I had no idea Ebert could write that well.
*obviously, I don't mean this literally in terms of distance.