Break Up the Baysox: Week 5
The Nolan Reimold Award, Presented by Fremulon Insurance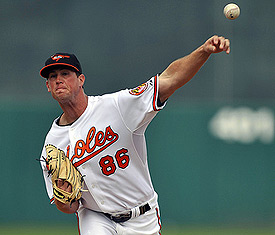 Brian Matusz showed off his potential this week, striking out 13 and walking just 1 against the Wilmington Blue Rocks (KC). At one point, Matusz retired 15 batters in a row, but the Keys failed to score and lost the game despite the dominating effort. This start showed that Matusz, with his 4 good or better pitches, isn't proving anything in Frederick that he couldn't prove in Bowie. Most of his development will be learning to rely more on his fastball than his breaking stuff (which was how he pitched in college), but the breaking stuff is so good he almost has to make Carolina League hitters look stupid.
Norfolk Tides (18-11 1st IL South)
Jason Berken (5 IP, 0 BB, 0 K) continued his scoreless streak, now at 15 innings to begin his Norfolk career despite an alarming lack of strikeouts. Chris Tillman continues to pitch well, lasting 6 innings with 6 Ks and 1 walk. Meanwhile, you knew it couldn't be long before Matt Wieters started to heat up, and he's coming on strong now, posting a .477 wOBA this week. He's still sitting on 1 home run for the year, but has turned into a doubles machine (4 this week). Nolan Reimold came back to earth – a little – collecting 5 hits and 6 walks in 15 at bats (but only 2 doubles).
Bowie Baysox (11-16 4th EL Southern)
The rain-soaked Baysox saw Jake Arrieta (3.1 IP, 3 BB, 4 K) understandably struggle on 7 days rest and Brandon Erbe hit the DL this week with minor shoulder fatigue. On the bright side, Troy Patton kept on rolling (6 IP, 6 K, 1 BB) and Brandon Snyder put up a monster week (10 for 22, 3 doubles, 2 home runs).
Frederick Keys (12-18 4th CL Northern)
Nate Nery (6 IP, 1 BB, 4 K) had a successful introduction to high A ball after his strong month-plus with the Shorebirds. Bill Rowell (9 for 25 with a double and 3 homers) put up some big numbers, proving that he's still got a lot of prospect-life left. Tyler Henson (.500 wOBA) had a strong week as well. Zach Britton made two decent enough starts (10 IP, 5 BB, 12 K) but I'd like to see the walks come down and the innings go up.
Delmarva Shorebirds (17-10 1st SAL Northern)
Xavier Avery finally had his coming out party: 10 for 21, 2 doubles, 3 triples, 2 walks, just 3 strikeouts (which is easily the most impressive feat of his this week, considering he has 29 on the year), and 3 stolen bases. Outside of Avery, pitching continues to be the strength of the shorebirds, despite Nery's promotion. Ryan O'Shea (7 IP, 2 BB, 6 K), Rick Zagone (7.1 IP, 2 BB, 8 K), and Cole McCurry (6 IP, 1 BB, 5 K) all had excellent outings this week and are a primary reason why Delmarva occupies first place in the Sally League.
(photo via mlb.com)