Day Baseball and David Hernandez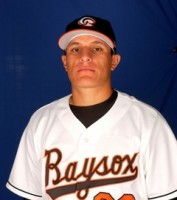 As far as today's game goes, count me among the less-than-optimistic. Roy Halladay is an android, and the O's seem to have trouble both (a) winning in daylight and (b) completing the sweep.
Although now that I think about it…nope, not going to get my hopes up. I'm looking for another solid outing from Rich Hill and beyond that it's all gravy.
Lost in all of the excitement surrounding last night's Matt Wieters announcement is the nugget I've been waiting for: it looks like David Hernandez will be starting in place of Koji tomorrow.
Hernandez first came to my attention last July when I noticed his exceptional K/BB numbers. My thought then was the same as it is now: that he absolutely deserves a long look as a starter, and could very well be a Jim Johnson type down the road if starting doesn't work.
I like this kid. Partly because of his numbers, but partly because I sometimes get gut feelings about guys and decide that I'm going to pull for them. It's like that.
Want to see something funny? Check out this list of the Orioles' best catchers, courtesy of the Washington Post. Yet another aspect of the franchise for Matt Wieters to redeem.