Do They Feel Like the Worst in the AL?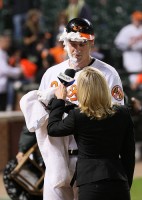 I didn't realize until today that the Orioles, at 28-37, are tied with Oakland for the fewest wins in the AL. Winning percentage-wise, their .431 is better only than the Indians at .426, but the Tribe has 29 wins.
However you cut it up, the Birds seem to be one of the three worst teams in the American League. Buried within the stats is one reason why: a respectable 20-17 at home, they're just 8-20 on the road. In all of MLB only the Nats are worse.
I suppose it makes sense, but the thing for me is that they don't feel that bad. Recent Slump aside, I don't associate this team with the bottom of the barrel the way I have in past years. They have succeeded, at least, in that much.
***
Meanwhile, how about the guy who caught Matt Wieters' first home run?
If you're out there, Sam: way to cheapen what should have been a great moment. You're not the story, and even if you were there's no need to go public with it. Classy people handle things like this with phone calls and conversations before taking it to the media. Hope it was worth it, jerk.
Edit: in the interest of fairness, here's what the guy had to say to Schmuck after the dust settled, calling the incident a "misunderstanding." I still think he handled it like an ass, but I'm glad it's resolved to everyone's satisfaction.