Early Orioles Roster Predictions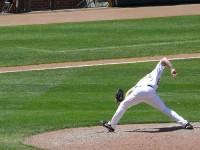 First, in case you missed it: former Oriole Chad Bradford had elbow surgery and will be on the shelf for three to four months. It kind of makes that whole "player to be named, whose name is cash" fiasco a little less…fiascoish.
Now, remember that Orioles spring training preview I did last year? I got invited to do it again for '09 and turned in my report tonight. It was, as you might imagine, not easy.
I'll link the whole piece when it goes live, but in the meantime I thought I'd post my predictions for the Opening Day roster. I can already feel the fault lines.
Rotation (in order): Guthrie, Uehara, Hill, Waters, Penn
Bullpen: Hendrickson (long man); Sarfate, Johnson, Walker, Parrish (middle); Sherrill and Ray (8th and 9th)
Lineup/Batting Order: Roberts, Mora, Markakis, Scott (DH), Huff (1B), Jones, Zaun, Pie, Izturis
Bench: Freel, Gomez, Wigginton, backup catcher TBD
I had to make some tough decisions here, and it's admittedly a lot of educated guessing. Before a single pitch is thrown, though, this feels to me like the best 25.
A few notes:
1. It wouldn't surprise me to see either Penn or Waters in the bullpen.
2. I can see Jamie Walker failing to make the team altogether, but my gut says he gets in.
3. Wigginton will get plenty of time, and I know that.
4. We don't really know what we'll get out of Ray, but I'm assuming he's back to pre-injury form.
The debate will rage on, for sure. No time like the present to get started.
(photo via)