FlatBrim Sherrill: Eminently Quotable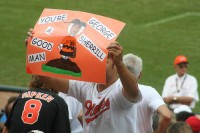 I couldn't resist a main post for the news that popped up in this story about the possibility of trading George Sherrill. Not the news that he might be traded — read: not really news — but the news that:
They'll have to get obviously what they want. Not necessarily be overwhelmed, but whelmed, I guess.
Here I was thinking that nobody would even enter the same stratosphere as Jamie Walker's "Rocketship/A-Bray-Hoo" speech, but 'Ol FlatBrim stepped the hell up.
Whelmed??
Gold. Absolute gold.
And, yes, I'm pretty much hoping that Andy MacPhail doesn't get whelmed. I said last year at this time that Sherrill's value as a both a fan favorite and a good guy — his intangibles, if you will — have to be considered as long as he's performing on the field. I'd say the same thing this year.
This is also a good time to point out this Ted Keith article from SI.com, which offers a nice national perspective on the Orioles' various trading chips.