Game Seven and the Return Of MelmO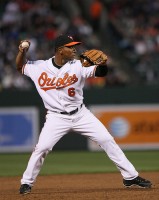 If you haven't been following the Capitals–Rangers series at all, you've been missing out. Lots of action, lots of controversy, and lots of personality. Regarding the latter, Dan Steinberg at the DC Sports Bog has a typically entertaining look at various off ice matters.
It all comes to a head tonight down at the Verizon Center in one of the most glorious displays on earth: a playoff game seven. Do yourself a favor and watch at least a period or so of this one. It's going to be something.
In Orioles news, the Angels are in town today for the first of two. They'll be greeted (at least in part) by Melvin Mora, who skipped his rehab assignment and joined the team today. To make room, Matt Albers was sent down.
I think that transaction makes us better immediately. Mora > Wigginton (although I do love Ty in the utility role), and Albers really needs to get himself straightened out. And who knows, maybe MelmO will provide us a shot in the arm.
Tonight it's Adam Eaton on the hill against Joe Saunders. Koji goes tomorrow against Shane Loux before it's off to the Blue Jays for a weekend series.
One that, incidentally, will feature a Mark Hendrickson–Roy Halladay matchup on Friday. Yep.
(photo via)