Good Pitching Still Remains
The Fremulon Insurance Prospect of the Week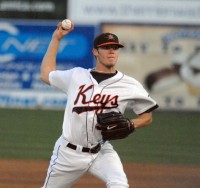 For the first time in human history, we have a tie in baseball. In this corner we have Brandon Erbe, who threw eight no-hit innings at New Hampshire before being removed for his pitch count – and after being shut down earlier this year with shoulder issues he had better be removed when he hits his pitch count. Erbe's no-hit outing is more luck than anything else (unfortunately), and his K/BB ratio is a little bothersome to me. In his past five games it stands at 1.61 (1.90 on the year), down from 3.02 in Frederick last year. But who can complain about an (almost) no-hitter?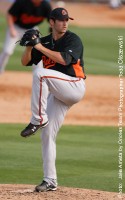 You're asking yourself what could really tie a no-no, and let me introduce you to perhaps the only attractive pitcher in professional baseball (at least since Mike Mussina retired): Jake Arrieta, who pitched in Fenway Park this past Saturday against the PawSox, walking none and striking out four in six strong innings – becoming the first pitcher to beat any Red Sox affiliate in Fenway Park during the "Futures at Fenway" series. Arrieta hasn't been particularly strong in any particular week at AAA, but when you look at his overall numbers compared to his time in Bowie, some things are actually comparable. Yes, the Ks are down, but so are the walks and the fly balls, and in his past five starts the strikeouts are really coming back (he has a 24 in 26 innings). I would not be surprised to see the final member of the "Big Three" up for his September cup of coffee.
Norfolk Tides: 62-53 (3rd IL South)
Brandon Snyder also had a very productive week, and has been turning it on lately, making a push to save his AAA season. His season OPS is still a pedestrian .708, but since the calendar turned to August Brandon has caught on fire: .425 OBP, tempered somewhat with a powerless streak (just 1 extra base hit). This is frustrating for me, because I don't know if it's the pitcher friendly stadium or bad luck or just that all of Snyder's power has disappeared into the hot Norfolk summer…but the fact remains that it IS gone (12 XBH in 178 AB for the season).
Bowie Baysox: 60-54 (4th EL South)
In case you missed it, Fangraphs ranked Josh Bell – who has done nothing but twist his ankle – as the third best prospect traded in August. Steve Johnson – who has also done nothing so far – was ranked 14th.
Frederick Keys: 22-21 (3rd CAR North)
Two weeks ago I decided to play a game that stumped my one reader. I will reprint the report with the names filled in:
Matthew Angle: 23 years old in his first season at the high-A level, .285/.363/.342 with 14 doubles, 3 triples, and a home run. He has 58 Ks and 47 walks in 450 PA.
Adam Loewen: 25 years old in his first season at the high-A level as a hitter, .252/.350/.378 with 20 doubles, 3 triples, and 3 homers. He has 87 Ks and 40 walks in 318 PA.
My point was/is, I was pretty pissed off when Loewen jumped ship to play for his "home team", but he really hasn't shown much with the bat (especially that strikeout rate) to make you think he's particularly better than a depth guy we already have in out system.
I'm pleased to tell you all that Kenny Moreland escaped the New York-Penn League and has pitched well back in Frederick: 10.1 IP, 8 K, 2 BB, but with 4 home runs in just 2 games.
Delmarva Shorebirds: 22-20 (4th SAL North)
In his case for promotion (although at this point in the season it isn't going to happen), lefty Cole McCurry has done everything. He followed up his wonderful 13 K outing with an 8 K one this week. He really should have been given the opportunity at Frederick at some point this season. He stands with more Ks than IP and a 3.41 K/BB ratio.
Another pitcher with a somewhat less solid argument for "mistreatment by lack of promotion" is ex-Midshipman Oliver Drake. Drake's numbers aren't quite as good (except in GO/AO) but a 3.69 ERA and a 2.53 K/BB certainly has a case behind it.
Vito Frabizio Update
Apparent Friend of the Blog and Favorite Player of the Blog Vito Frabizio continues to show Matt Hobgood how to do it in the Appalachian League, pitching 5.2 walkless innings (with 3 Ks) on Sunday. Hobgood, by the way, is up to 3 innings in his ramp up duty, but has yet to be effective (7 Ks, 5 BBs on the year).