Hennessey Gets First Shot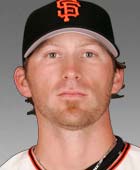 According to both Roch and Schmuck, non-roster invitee Brad Hennessey will start for the Orioles in their spring training opener on Wednesday against the Mets. Even more interesting to me is that David Pauley and Chris Waters are also available for the game. I don't know that anything means much this early, but it suggests that Trembley's wasting no time in getting a look at his prime candidates.
Far be it from me to shill for MLB.com (they've certainly done nothing for me lately), but I can't help but note this story on hot sellers for 2009 so far. Dig it:
1. Orioles Authentic Road Cool Base Jersey. Possibly the hottest item in the MLB.com Shop right now. There was a wait for fulfillment due to demand and now these have begun to ship out. This features the brand-new "Baltimore" script road logo that so many Orioles fans had clamored for in recent years.
Finally, here's why I don't even attempt to do serious previews of other teams: check out this "take" on the O's from a website called Sparty and Friends. I'm particularly taken with the way this dude's got Felix Pie penciled into the leadoff spot, followed by the statement that "Brian Roberts will continue to bat in the two-hole where he's traditionally very effective."
I don't mean any disrespect to this guy (or his site) because I don't doubt that he did the best he could. Bottom line, though, is that if you don't have a grip on something as basic as where a team's cornerstone player has been hitting in the lineup for the past five years then, well, maybe it's best to stick to previewing teams you actually know something about.