In a Word: Wieters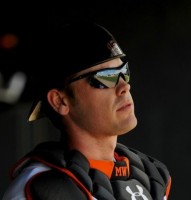 August 16th, 2007, a Thursday, was almost the day that broke Orioles baseball.
That could have been the day Baltimore woke up to news that the club had failed to sign their can't-miss, once in a lifetime draft pick. Seems hard to believe now, but it almost happened. Most reports during the day on the 15th suggested that the two sides were too far apart to get a deal done. In fact, shortly after midnight, the Pittsburgh Post-Gazette actually went with a story on how the O's came up short.
I remember that night, and I remember the despair that began to set in. Until around 12:10 AM, when the news came out that a deal was done and Matt Wieters was an Oriole.
The saga prompted Joe Jordan to remark — in one of the great moments in O's front office history — that "you can tell the City of Baltimore that the old evil owner stepped up and took care of things tonight. We had to fight to the end."
Draw a line from then to now, because everything that happened to the Orioles in between carried with it — directly or indirectly — the mark of transition. Matt Wieters was coming, but when?
Friday, May 29th, 2009.
There's a voice in the back of my head shouting reminders to keep cool. That it's early yet and anything can happen. That the team isn't suddenly a playoff contender. That there's a lot of work left to be done.
All true, and all worth remembering. And all completely off the radar right now, because the Kid is here and he's starting tonight against the Detroit Tigers.
Go get 'em.
(photo borrowed)