It's a Great Day to Be an Orioles Fan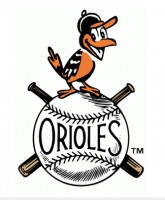 The past two weeks have seen a bloodless revolution.
Gone is Adam Eaton, the biggest of Andy MacPhail's mistakes so far. Gone from the rotation is Mark Hendrickson, whose job is now what it always should have been — long relief.
Over is the Felix Pie experiment, because young Nolan Reimold stepped in and forced everybody's hand with outstanding play from the jump.
Up are Bergesen, Berken, and Hernandez, the first wave of reinforcements from a minor league pitching system that is finally holding its own.
And on his way, debuting tomorrow, is the number one prospect in all of baseball, Matt Wieters.
If you're reading this site then there's a good chance you're a die hard. A good chance you never stopped going to games. Good chance you bought a jersey or a t-shirt with "Baltimore" proudly emblazoned across the front.
A good chance you've been waiting one hell of a long time for this day.
We'd be wise to remember that there's a long road still ahead, but we'd also be wise to savor this. It is the brightest and most salient Birdland moment since 1997. This team is legitimately interesting. Legitimately exciting.
Remember to enjoy it. You have, after all, earned that much.