Jason Berken Knocks on Wood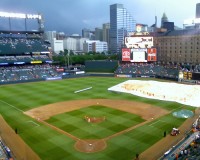 Man, how much would it suck for the kid if his debut start got rained out?
He'd better steel himself for the possibility, because the forecast does not look good. The entire eastern seaboard is pretty much covered in green.
If for that reason the game is not played, it opens up a whole host of questions.
— Does Berken stay and take Koji's start?
— Does he not even make it here, and Hernandez instead comes up to make Koji's start?
— Does Koji make Koji's start?
— If no pitchers are needed yet, what happens when Montanez goes to the DL? Is it simply a matter of swapping him for Luke Scott?
— Is Berken still the guy the next time a pitcher is needed?
— How does Chris Ray feel about all of this?
That's probably just the beginning. This would be one strange set of circumstances.
What makes it even weirder is that I'm headed to the ballpark to watch the game from the MASN suite with a bunch of other O's bloggers — if there is, in fact, a game to watch. The network is doing some outreach and they were kind enough to include me on the list.
Here's to wondering.
(photo via)