Lookouts for the Baysox
The Fremulon Insurance Prospect of the Week
You all know my thoughts about the George Sherrill trade. It had to be done, we took the opportunity to sell high on a mid-tier closer, we got a good return, and I would have be quite disappointed if it did not happen. But I tuned in to see Georgie's awesome Dodger debut where he stranded two inherited runners by striking out the side and it was hard not to feel a twinge of remorse. He just didn't look right in that uniform, as if some part of the universe had shifted oh-so-slightly to the left (topwise) and now I was living in a weird parallel dimension where many things were the same, but many other things were not.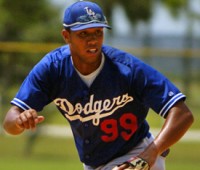 No sense living in the past; the two former Chattanooga Lookouts will definitely help the O's ravaged farm system. Steve Johnson will join the likes of Zach Britton and Tim Bascom to become the new second tier of pitching depth, and Josh Bell is our new hero. For comparisons sake, Brandon Snyder played 58 games for Bowie posting an obscene .432 wOBA and was largely hailed as the immediate future in Baltimore. Josh Bell has played 95 games with better defense and a .381 wOBA, and a more reasonable BABiP. It's hard to not like the trade, even if it hard to fathom it.
Norfolk Tides: 58-50 (3rd IL South)
Brandon Snyder has had a pretty miserable time in AAA – owing a lot to the pitcher's park he plays in and his own sudden inability to take walks. Over his past ten games though there have been signs of life: .378/.395/.514 and only 6 strikeouts. The bad news though: just 1 walk and no home runs. With just a month left in the season (and then the AFL), I would be shocked to see Brandon turn it around enough to seriously be considered for an Opening Day assignment in Baltimore.
Bowie Baysox: 58-50 (4th EL South)
Tim Bascom has adjusted well to the Eastern League. As he nears the innings total he complied earlier in the season with Frederick, we can start to compare the two halves to his season. His home runs are a little down (but his GO/AO is also down…hmm…) and his walks a little up, but his strike outs are a little up. It all adds up to this: Tim Bascom is more or less the same pitcher at Bowie that he was at Frederick. This is very, very encouraging, since most professional baseball people tend to think the jump to AA is the most difficult and important one, and Bascom seems to have passed.
Frederick Keys: 18-18 (3rd CAR North)
Ryan Adams was definitely a name to watch before the season. The front office was high on him, despite many clear and present defensive issues, but a groin injury basically wiped out his 2009 season. This week though showed off some of that hitting promise: .435/.480/.696 with 6 Ks. It's a small sample in a bad minor league year (.748 OPS) for a 22 year old playing his first year at high-A ball, but the potential definitively exists. If Adams can surge into the end of the season, perhaps we won't be looking back at a wasted year, but rather at a productive one.
Delmarva Shorebirds: 17-17 (5th SAL South)
Cole McCurry struck out 13 batters in six innings on Saturday night. A few days ago, Joe Posnanski wrote about pitchers who strike out 15 and walk none in a game being almost uniformly Hall of Fame quality pitchers. McCurry did not do that – he walked 2 batters and only struck out 13 – but such a dominating performance has not been that out of line for the 22 year old lefty, who has over 3 times as many Ks as BBs. He deserves a promotion in the worst way.