Welcome to Loss Column 2.0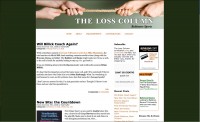 Here it is: the new look and new brand for The Loss Column. It's been since October that I've been talking about this so I'm pretty stoked to finally make it happen.
The changes will probably take some getting used to. It's a fairly radical departure from what we had before, and I'm naturally nervous about the impact. That said, everyone I've tested it out with has agreed (unless I missed something) that it's a step up.
I've put up a new page called "Site Redesign Info" that will stay in the menu bar for awhile so that everyone has a chance to understand my thinking and, if the mood strikes, leave comments about the changes.
This was definitely not a case of change for its own sake. My goal was to make the experience better. I know that it might still not be perfect, but I believe it's an absolute improvement from what we had before.
Please don't hesitate to leave feedback, either on the "Redesign" page linked above or on this post. I've also rewritten all of the static pages ("About", etc) and added the "Comments Policy". Feedback on all of that is likewise welcome. For those of you who are feeling wistful, the image on this post represents the final screencap of the old site. At this point I'm not sure I could recreate the old look even if I wanted to, so that's it.
One important note: if you have any difficulty with commenting, please email me. I'm trying out a new anti-spam system and I'll need to know if it's catching false positives. If your comment doesn't show up automatically after you leave it, that's bad.
With that, we move ahead into '09. The holiday slowdown is over and I'll be back to regular posting. Here's hoping you all enjoyed a happy holiday season. Remember to stay optimistic about the New Year. We're living in troubled times, but with adversity comes opportunity. All you have to do is know where to look.