On the Many Ways in Which I Love Jamie Walker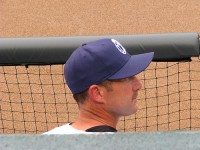 Let's get one thing out of the way: if you didn't see the game last night, there's no way Jamie Walker balked. It was a terrible call, and it quite possibly cost the O's the game. But don't take my word for it — let Jamie tell you himself (link includes video):
"It was a one-run game and that's the second out. I gave up a rocket ship to center field and we threw the guy out. We pick the guy off, that's two outs. I got two strikes on Abreu and struck him out. It's still a one-run game if you look at it that way.
"I don't know if he had money betting on the game or what, but it's a horse (expletive) call."
Let's see…
"Rocket ship" used — amazingly — to refer to a hard hit ball? Check.
Reclaiming "horseshit" in the name of Orioles fans everywhere? Check.
The fact that he pronounced "Abreu" "A-bray-hoo"? Checkmate.
Man, I don't even care if he's good or not. I don't care that he's strictly a situational guy in a bullpen that could probably use another generalist. All I care about is that he keeps talking, because Jamie Walker is bad ass.
He'll be fined and probably suspended, though. Whatever. Worth it all the way.
Back to the games with an early start today for Koji. Go O's.
(photo via)