One Hell of an Eventful Orioles Evening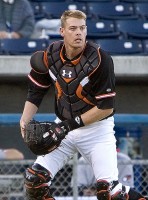 Matt Wieters is coming.
But let's back up a little bit.
I got an invite about two weeks ago from the folks at MASN, asking if I'd like to participate in Bloggers Night at the ballpark. I'm not entirely sure if I'm "supposed" to talk about it or not, but nobody asked me not to so here you go.
We started with a visit to the TV booth, where we spent some time with Gary Thorne and Buck Martinez (and, briefly, Amber). We went from there to the outdoor set of the pre-game show, then retreated to the friendly confines of the MASN suite.
Therein I had the pleasure of talking with Jim Hunter, and the greater pleasure of meeting the folks behind Roar From 34 (long convo with Matthew — very cool), Oriole Post, Camden Chat, Dempsey's Army, Baltimore Sports and Life, Baltimore Sports Report, and NumerOlogy.
edit: I am a complete dope for omitting Wayward O. Talking to him was actually one of my favorite parts of the evening.
Many other bloggers and media/team folks were there, as well. There are some fine individuals dedicating their time and energy to chronicling the ins and outs of life in Birdland. Pros and non pros alike.
I did make it a point to ask the MASN rep (nice guy named Todd — not sure of his official title) to go on record as saying that nobody tells Roch what to write. He obliged, so make of that what you will. I take him at his word.
Interestingly enough, I didn't get a chance to meet Roch. I believe I was deep in conversation when he came up.
During the first inning the suite started to buzz with word that Andy MacPhail would be making an announcement. You know where things went from there.
The vibe I got was that everyone was surprised — including Thorne. I think (just opinion) that MacPhail had some fun with it, which I like quite a bit.
So, yeah, I was in the MASN suite at Camden Yards when the team announced that Matt Wieters was coming to Baltimore. Definitely surreal, and definitely cool.
Thanks to the MASN team for making it happen. They deserve a lot of credit for doing this kind of outreach. It speaks to an organizational commitment to turning the page and building something good. I already knew from my dealings with the O's communications department that this was the case, and now I know it from the MASN side.
You and I know it's a good idea, but there are plenty of businesses out there who still don't get it. I think the O's and MASN are doing things the right way now because they understand that it is the right way. I've had what I'd call a decent amount of interaction with them at this point, and I'm telling you what I see.
If this evening had been a sales pitch for the network or a plea for better coverage, I'd tell you. It wasn't at all. In fact, all of us were asked to fill out an anonymous survey that asked how we thought MASN could improve. They genuinely seemed to want us there, and they at no point asked for anything in return. They played it straight.
The New Era of Orioles Baseball starts Friday. From where I sit it's coming together pretty damn nicely.
(photo via)