Orioles Cut Six, Terps over Tigers?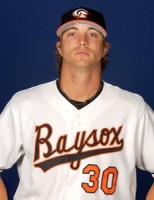 Minor news out of Orioles camp today as the team made another round of cuts.
None of the names surprise, but it is worth noting that Nolan Reimold certainly impressed while he was there. He hit .321 and slugged .750 with four homers in 28 at-bats. Not too shabby. He's ticketed for Norfolk, and the question on my mind is: can he move over to LF and unseat Felix Pie if need be?
As for the pitching, things remain as confusing as ever. I stand by my assertion that Brad Bergesen — ready or not — has earned a spot, maybe even the #4 spot. Beyond that I have no idea. The team appears to be stretching Baez out, but his underwhelming performance today should be all the proof anyone needs that he is not the answer.
Hayden Penn hasn't done much, either, and that troubles me. Can we really be looking at Mark Hendrickson in the rotation? Maybe him and Adam Eaton?
Yes, I'm getting worried.
— It's a 3:20 start for the Terps against Memphis, and I've got a feeling they might pull this one out. It's probably just blind optimism, but I'm sticking with it.
I like what Dave Neal had to say in this Sun story:
"When you're sitting around TV watching Memphis win 25 games in a row, you're thinking, 'Well, do they play as tough teams as we do?' Not to knock Conference USA but the ACC is the No. 1 rated conference in the country and we play against better competition," Neal said. "We're going to be ready tomorrow to show them what ACC basketball is all about."
— The Ravens officially signed L.J. Smith and, interestingly, told the NFL that they'd rather not play a primetime game in Pittsburgh.
— Finally, here's something funny: somebody out there is using an online tool to try and snoop on Loss Column stats. How flattering.