Orioles in Chicago For Three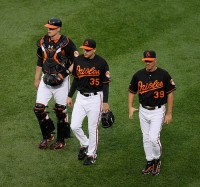 First thing's first: tune the hell in to the Fighting Ungers radio program tomorrow morning from 9-12. I'll be on, and I'll even be sitting at the main mic. If you listened the last time I did that, you know it will be…interesting.
1370 AM or listen online here.
***
The second half of the season kicks off for the Orioles tonight as they head to Chicago for a three game set against the White Sox. Pitching matchups like so:
Jason Berken vs. John Danks (7-6, 3.91, 1.25 WHIP, Texan) tonight
Jeremy Guthrie vs. Mark Buehrle (9-3, 3.66, 1.19 WHIP, apparently bearded) Saturday
Brad Bergesen vs. Jose Contreras (4-7, 4.54, 1.25 WHIP, older than we think) on Sunday
Those first two games look brutal on paper, but they gotta play 'em anyway.
I like that second-half predictions discussion that was going on earlier. Let's carry that over to this series thread, shall we? Yes.