Orioles Now And…What Next?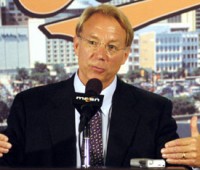 That was an unexpectedly busy week in Birdland, yes? Our consensus frustration about the lack of movement evaporated in the wake of rapid-fire news that both Mike Gonzalez and Garrett Atkins joined the black and orange. Great discussions ensued.
I like both moves. In particular, I have zero concern about the financials on the Gonzalez deal. I'd have less than zero concern if that were possible. When it comes to the Orioles spending money I only care about one thing: are they spending recklessly in a way that might negatively impact future moves? The Gonzalez deal doesn't reach that threshold. Whether he's "overpaid" or not is pretty much a non-issue.
Along the same lines, I don't care about the second-round pick. There's a chance that in two or three years we'll look at some other team's breakout star and say "we could have had him." That doesn't automatically equate to "our scouts and decision makers definitely would have picked him." The MLB draft just isn't like that.
I heard a few minutes of Gonzalez's appearance on 105.7 this afternoon and came away impressed. He's got a great attitude and my early read is that he's the kind of guy who might quickly become a fan favorite. If he pitches to his record I think we've got a guy we'll enjoy rooting for.
As for Atkins, I see him as a versatile stopgap who should be an upgrade. That's enough.
So, what next?
I'm kind of hoping for Carlos Delgado or Troy Glaus even though both carry some risk. It's hard to ignore that power potential if it comes at the right price. I'd also like to see Bedard back in the family.
However it shakes out, the Orioles are a better team now than they were at the end of the 2009 season. Yet I think we'd all agree that there's work to be done. For MacPhail's part, he's willing to let the market "percolate.".
So let's have at it. And if you're reading this in the MD/Baltimore area, enjoy the snow. You've pretty much got no choice.