Orioles, Red Sox, Colts Band, Radio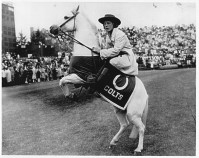 The deeper we get into September, the harder it is to say anything about these games against the Red Sox. No point in getting all Don Quixote about how much I hate the fact that their fans invade Camden Yards — even I find it tough to muster that argument this late in the season. I still hate it, though.
It's particularly hard tonight now that Nolan Reimold is on the DL with an achilles injury. He'll have some surgery and be ready to go for next year, but this would (as noted in the article) seem to put a serious dent in his Rookie of the Year chances.
Reimold was one of my favorite things about the 2009 Orioles. He's the kind of player I love to watch and he put up very decent numbers. If it were up to me, he'd be the unquestioned starter in left field until he proves he can't get it done. Felix Pie has come along nicely but still looks like a better fit as the fourth outfielder than anything else.
That appears to be the Orioles' plan. We are, however, a long way from March. This won't be the same team by then.
Want something to get excited about in the meantime? Sink your teeth into the trailer for The Band That Wouldn't Die, Barry Levinson's upcoming documentary about the Baltimore Colts Marching Band.
This looks amazing. It's a very Baltimore thing to do, maintaining the Colts band even as the Colts themselves are gone forever. I'm hard on the sports fans of this city sometimes, and part of that is because I think tradition holds them to a high standard. The Colts Band is a significant part of that tradition and it's about time they had their moment.
Finally, what do you have going on between 10 and 12 tomorrow morning? Not much, you say? Perfect. You're invited to tune in to Fox Sports 1370 to listen to me banter with the Fighting Ungers about Baltimore sports and — probably — a lot of other things. Hit up 1370 AM here in the area or head over to this page and click in the upper right to listen online.
The usual offer stands: first person to tune in, call in, and mention The Loss Column wins a prize. It's true — I actually have a small prize I'll be happy to send you. Only caveat is that Ryan's not eligible.
(Photo, which doesn't directly relate but which I thought was cool, via paultravers.com. Interesting stuff there.)