Orioles-Red Sox: Simply, The Comeback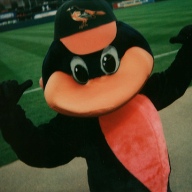 I'm not going to attempt to fully recount what happened last night. Truth is, the comments on yesterday's post do a better job than one person ever could. That's an organic, real, exhilarating read right there. True fans doing what you all do best.
Even in the light of day I feel no less excited. This fan base — the dedicated and frustrated alike — both needed and deserved a night like that. I wish I could eavesdrop in every office building, on every street corner, and in every pub today. For one day, at least, this really is Birdland.
Greatest comeback in Team history. Biggest comeback ever by a last place team against a first place team. Proof that Oriole Magic not only has a pulse, but is prepping for a massive reunion tour.
Speaking of Oriole Magic — I'd say now is a good time to link this again (mp3).
Phew. What a night.
And now we have Day Baseball on tap, with the Berger Cookie (he's nearly earned that moniker) up against Josh "I have a hemp necklace, brah" Beckett. Let's go get 'em.