Orioles: Signing Mike Gonzalez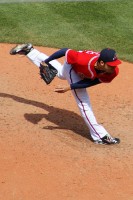 According to Jeff Zrebiec at the Sun, the Orioles are about to sign veteran reliever Mike Gonzalez to a two-year deal. $12 million plus incentives if you believe Yahoo!'s Tim Brown. Whatever the money, they'll surrender a second-round pick as well.
I don't know anything about Gonzalez other than what's in the Sun article and what I can gather from his career numbers (which are strong). What I can say, though, is that I'm not at all bothered by the move.
Losing the pick isn't ideal but it shouldn't hurt much. With the way the baseball draft usually works, after a few "can't miss" guys in the first round it's more about scouting, need, and signability than the position of the pick. As for the $12 million, they have plenty of payroll flexibility. Neither the total dollars nor the length of the deal are large enough to reach albatross status if Gonzalez is a bust.
On the first pass this seems solid. If he arrives in Baltimore and continues to (a) not give up home runs, (b) pitch to a sub-3.00 ERA, and (c) strike out a hell of a lot more guys than he walks, I'll take it. But I don't know if it's enough to say "OK, back-end bullpen upgrade complete." I'm looking forward to seeing what other O's players have to say about it, and how Gonzalez carries himself. I hope that at the very least he's a guy we can get behind.
(photo via Flickr user The Suss-Man (Mike))