Orioles: There, Then Not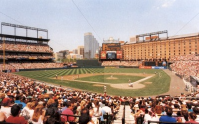 We can say this: the Orioles were in this second Boston game. They had leads and were tied in the seventh, but Danys Baez couldn't hold it down. On it goes.
I was really looking forward to writing that "we split the series" post.
As it happens, though, there is some interesting and good news to report away from the diamond. The O's announced today that architect Janet Marie Smith has rejoined the team to serve as Vice President of Planning and Development. This has no direct impact on the field, but it does mean that the team is (a) serious about their new spring training facility and (b) serious about the fan experience at home. Further proof that the're looking to build a strong overall organization beyond just player personnel.
And oh yeah: four idiots tried to steal Cal Ripken's number from outside the Yard. That's phenomenal in its idiocy, but it did prompt Big League Stew to make a good point: maybe Cal should have a bigger monument than just his number?
A little early for that, but it's something I'd like to see down the road.