Randoms (ver. 1/vol. 2)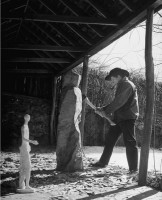 — Sticking with the axe mention from the last edition of Randoms, that pic to the left is Robert White, a sculptor who died in 2002. The photo dates from 1949 (source).
I can't find much info about White. The main points seem to be that he was widely respected and that his grandfather, noted architect Stanford White, was the victim of a scandalous murder. I'll take what's in the picture (click that "source" link for a large version).
— Director Mark Romanek has a site where he posts photos and videos he shot with an iPhone. Some great stuff there.
If you don't know Romanek, he's the guy who directed one of the greatest music videos of all time, for Johnny Cash's rendition of "Hurt".
— Speaking of directors, my friends Tomorrow's Brightest Minds shot this spot for Method. You'll enjoy it.
— Last week, Roar From 34 hipped us to the fact that you can play RBI Baseball 2 online. Just in case you missed it.
— I'm giving some serious thought to picking up this wallet. The one I've got now is a Wal-Mart find that wasn't supposed to be much, but it's only now in need of replacement after 10 years of daily service.
Transitions. Lots of 'em.