Randoms (ver. 1/vol. 3)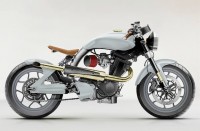 Going a little Mad Men heavy with this one, at least at the top.
— Latest blog post at my Slant Six site is all about the common ground between Mad Men and a particular episode of The Twilight Zone. It includes not only analysis but also links to watch the TZ episode in question.
If you're a fan of either show I'd dig some thoughts on that. Here or there.
— Esquire checked in earlier this year with an appreciation of "the minor women of Mad Men". You've got to love Rachel Menken. You just have to.
I'm equally a fan of Crista Flanagan, who plays often-hapless secretary Lois Sadler.
— That pic up top? Click it for a larger version. That's UK design shop Carefully Considered working on behalf of a startup bike company called Mac Cycles. More info and pics available here.
If and when I have the cash to get a bike I plan to do it right. For me that pretty much means a Triumph, preferably a vintage Bonneville. But if I had to go new, then that pic is it. Wow.
— Dig this awesome video of a Penn & Teller appearance on David Letterman from back in the day. It's funny, smart, and a little bit disturbing. In all the right ways.
— I don't want to go completely sports-free here, right? So enjoy this picture of Hubert Humphrey and Dave McNally following the 1966 World Series.
Looking forward to the next time an Oriole gets the chance to soak up that situation.