Ravens: All's Well That Ends Well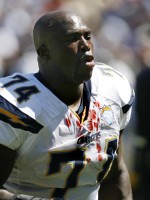 I am all for a good competitive game. Blowouts are fun in their own right but it's nice to have a game hold your interest until the final whistle.
Having said that, two in a row to kickoff the year is wearing me down a little bit.
Obviously the Ravens' game against the Chargers was less of a shock than the Chiefs last week, but considering the amount of injuries San Diego had I was anticipating the game be a little more lopsided. I figured by the fourth quarter the Chargers' young offensive line would have been beaten down for good. They were certainly coming apart, but not like I expected.
Obviously their key failure was allowing Ray Lewis into the backfield untouched to end the game. I hope the Ravens are never on the other side of that situation. What a way for a game to end.
Overall our defense is beginning to scare me. The Darren Sproles 80-plus yard TD is one thing. That guy is one of the most dangerous backs in the league. He' a smaller, quicker Ray Rice and has the ability to catch defenses off guard.
Even beyond that, though, the rush defense was a bit of a mess. In the first two weeks I have seen a noticeable difference in the Ravens' ability to stop the run. The blitz packages remain effective, but they've got some issues.
The stat that scares me most is Phillip Rivers' 436 passing yards. He picked our secondary apart. He showed the rest of the NFL that a tall receiver is a great weapon against us.
On offense, I thought we used the three-headed backfield to great effect. If all three backs can remain healthy I think we have quite a monster attack.
Joe Flacco made some dumb throws again but luckily they didn't cost us all that much. I noticed they were relying a lot on the short out passes, which was frustrating. But, I'd rather be safe than sorry.
In the end you can't complain about 2-0, especially when Pittsburgh goes down. Hopefully we'll get a bit more breathing room against the Browns next week.
(photo borrowed from nfl.com)