Ravens-Chiefs: Too Close For Comfort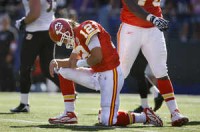 The Ravens vs. the Chiefs was another one of those games where the final score sounds like it's from a different game. When you realize that up until the last few minutes of the game it was 24-24, it gets scary. This was against the Chiefs. At home. With second- and third-string quarterbacks. What the hell? This game was supposed to be a rout—and after the first drive it looked like it could be.
I did like how the Ravens came out firing. They seemed to do better when they went no-huddle; the passing game was working well early. It appears that the Ravens are now a throwing team. Gone are the days of run the ball at the other team and wear 'em down. Though they still have the ability to do that, the focus was shifted yesterday to the air. For the most part, it worked. Having a healthy Todd Heap definitely adds another dimension to the Ravens' offense, allowing Derrick Mason and Mark Clayton to get some better coverage matchups. I have to say, every time Heap got tackled I couldn't help but think to myself "he's not getting up." But he did and let's hope he keeps doing it.
Joe Flacco reminded everyone that he is still a young quarterback with a few of his passes. Way too many passes were thrown too high, which is dangerous.
I can't really point to any one reason why the Ravens came so ridiculously close to losing to the Chiefs. I didn't see very many mistakes. Our secondary was a bit weak in the second half. Special teams are still awful, but I don't think you can blame it all on that.
Overall I thought they played well. I thought the Chiefs actually played pretty well too. I think what it came down to was that the Chiefs wanted it more and the Ravens played down to their opponent again. Let's hope it was just a first week thing and the Ravens won't give us these heart attack games anymore this season.
If nothing else, they covered the spread I'm sure that made a few folks in Vegas happy.
(photo borrowed from the Kansas City Star)