Ravens-Patriots: Missed Opportunity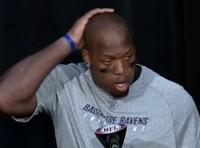 I am really getting tired of losing to New England. Their fans have this smug sense of entitlement, but overall I believe the Ravens are the better team. So why did they lose yesterday? Before we throw Mark Clayton to the wolves, I want to point out that his epic failure was just the final nail in what was an already built coffin.
The referees were pretty one sided. I don't think anyone, even in Foxboro, can deny that. Terrell Suggs said it best: referees use the roughing the passer rule to protect some quarterbacks more than others. Tom Brady, Peyton Manning, Ben Roethlisberger — these guys are protected to a degree. They enjoy a little bit more freedom and they enjoy a closer eye from the refs and a quicker reach for a penalty flag. Maybe Joe Flacco will enjoy that situation one day as well.
That said, the Ravens have no one but themselves to blame for this loss. The offensive line was Swiss cheese and our defense could not stop Brady & Co. Fabian Washington was outmatched all day and the Ravens are lucky that he wasn't exploited more often.
The Patriots' defense is not what it used to be (neither is the Ravens') but they adapted well to shut down Derrick Mason. They just seemed to have us figured out.
On a positive note, Ray Rice seems to get better and better. This week he showed that he had some footwork and his second efforts after being hit kept the Ravens in the game. I wonder, though, why the Ravens didn't try to work Le'Ron McClain in more.
Anyway, The Patriots are rapidly moving up my list of most-hated teams and the more the coddled Tom Brady is, the more I hate him. I hope they have an awful season but I'd bet they're going to be hanging around the top of the heap for quite some time.