Ravens: Things Fall Apart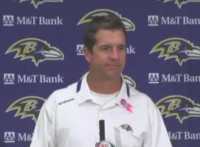 The Ravens fell apart against the Bengals yesterday. Where was the team that outlasted the Chargers on their home turf? Where was the team that dismantled the Browns? Which team showed up yesterday?
It seems the Ravens have been in decline since the game against the Browns. Yes, they are awful about playing to their opponent's ability instead of their own. Yes, it has always been like that and I don't think it will ever change. It's a team mentality that frustrates the hell out of me. But there is no reason why the Ravens should be losing to teams like the Bengals.
Or is there? When you look at the box score for yesterday's game, it wasn't even close. The Ravens were outplayed all day. Aside from Ray Rice, whose extra effort gave us our only offensive touchdown, no one on that offense did their job.
No one on the sidelines did either. What possesses someone to run the same play five separate times in a game when it isn't working? At what point was Cam Cameron going to try and open the field a bit more? When you look back at the Cleveland game, the team was all over the field. They hung it all out there. Now look at yesterday's game. After Ed Reed's pick six it looked like the team went into hang-on mode. I'm all for conservative play when you are winning, but you still need to keep putting points up on the board.
The Achilles heel of this team is the cornerback position. Foxworth and Washington can't handle stud-wide receivers, and we are going to face a lot of them this year. Teams are finding out very quickly that they can kill us on the corners. It's hard to get used to as a fan because we used to dominate in this area.
And in a final note, someone said to me yesterday after the game "are you guys going to complain about the officiating after every game?" and my response is that until the officials start getting things right or blow an equal amount of calls for both teams, yes.