Ravens: Where's the Bottom?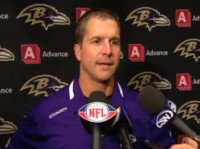 Ed. note: thanks for bearing with us through the tech troubles. Things appear to be working OK for the moment, so here's Justin's weekly take on the game.
It is getting downright brutal to sit through a Ravens game these days. I know it could be worse. We could be Tennessee, but I can't decide if I would rather see my team get beaten soundly or lose in the final seconds like the Ravens keep doing.
There's no denying it, the Ravens' defense is weak. It's more than just a secondary issue now. Granted, the secondary is still a massive problem but the defense as a whole is suffering. It's such a strange feeling not having a reliable, lights-out defense. What happened? I have to think that it's more than Rex Ryan or Bart Scott leaving. Those guys are great but to see a collapse of this magnitude, it has to be bigger than two guys.
Where's the bottom? For 39 consecutive games no single runner put up over a hundred yards on us. It has happened twice now in two weeks. Adrian Peterson is almost expected, but even he has only had one other hundred-yard game all season. Cedric Benson is just inexcusable.
Having a hard time stopping the run makes the secondary issue even more pronounced. Only one other team in the NFL has given up more 20-yard-plus pass plays than the Ravens this year and we still haven't faced best of the deep-threat offenses. What's going to happen with Brandon Marshall in two weeks? What about Hines Ward and Santonio Holmes coming at us at the same time? What happens against Indianapolis? There are many challenges ahead and the word is out—the Ravens are not the defensive powerhouse they once were.
Offensively, I wish we had a little more success with the run in the first half, but you can't take anything away from the offense yesterday. They hung in there and fought back as best they could. Flacco's 448 yards is pretty impressive considering that before the final drive of the first half the team had a total of -4 yards. As for Steven Hauschka, all I can say is as a kicker you have one job and if you can't do it then you don't belong in the NFL. A 44 yarder indoors should be a sure thing, and it hurts even more because it used to be.
If I am pointing a finger this week, though, it's at Frank Walker. He got beat on just about every play. When you tackle the guy you are covering and he still catches the ball you know you are out of your league. Yes Hauschka missed a field goal, but Frank Walker gave one away. That's how I see it.