Roberts to White Sox for Floyd?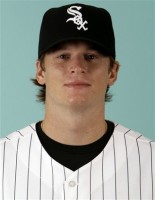 Courtesy of a comment from Joe the Guy, we have news of a terribly juicy new rumor: the possibility of Brian Roberts heading to the White Sox in exchange for the other hometown hero, pitcher Gavin Floyd.
There's info and speculation available at both MLBTradeRumors and Roch Kubatko's blog.
First impression: let's get this done.
I'm with JtG in thinking that it might not be a great straight-up deal, but I'd do it anyway. As much as I love Brian Roberts, there's always a chance he won't re-sign. That and the fact that he's fully in his prime, meaning (a) his value will never be higher, and (b) his next long-term contract will include declining years. On top of that, I think we'd all agree that he kind of deserves a chance to play for a contender.
To get in return a quality young pitcher like Floyd — who just happens to have a similar pedigree to one Mark Teixeira — would be a giant coup for MacPhail and would go a long way towards solidifying this team's competitive potential in the coming years. Roberts would absolutely not be easily replaced, but finding a second baseman is (at least in theory) easier than finding a guy like Floyd.
There has to be a way to make this happen, yeah?