Should Technology Call the Game?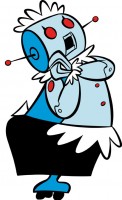 As pointed out in the last thread, the past week has not been kind to officials. Starting with the questionable "roughing" the passer call against Terrell Suggs in the Ravens–Patriots game and climaxing with umpire Phil Cuzzi's blown foul ball call a few nights ago, we've been reminded in a sudden and dramatic way that the folks who call the games are, indeed, human.
In the case of Cuzzi's mistake, one result has been a predictable call for more use of technology to take judgment calls out of the hands of umpires. Here's one example and here's another.
File them in the "shortsighted, wrongheaded" folder with all of the other calls for more instant replay, more cameras, more sensors, etc.
Let's forget for now the argument in favor of the human element. I happen to agree with that, but it's one of those debates neither side will ever win. So instead let's focus solely on the question of whether or not more technology would improve the game of baseball.
Proponents say that the technology will be more "right" than human eyes. In small sample sizes and specific situations that might be true. Applied on a broad scale, though, it breaks down.
Because if you think technology is infallible then clearly you've never used a computer. Never suffered data loss or a hit to productivity because things didn't work the way they were supposed to. Clearly you don't own a cell phone. Never experienced a dropped call or a text message that didn't arrive as planned. And you obviously don't own a Sidekick.
Don't misunderstand – I'm as much a proponent of technology as anyone. I have a Mac and an iPhone, I use cloud-based computing services, etc. All of it. And it's precisely because I do believe in technology that I'm saying that bringing more of it to baseball is a bad idea.
By shifting to a tech-based system, you add a point of failure. Presently there is one: the man making the call. Shifting to technology means two: the people who design the system and the system itself.
Think of all the variables that would go into designing an automated system to call balls and strikes. All of the decisions that engineers and coders would have to make, and all of the problems they'd face in doing so. I realize the networks already have pitch tracking systems, but that's still quite different from a system designed to work in-game.
As for replay, think of the problems the NFL still has with it despite the fact that they've been using the system for years. It's video evidence, sure, but it's still subject to human interpretation. They still get it wrong.
Start fleshing it out and even the variables have variables. If baseball goes to replay, how do they implement it? Who makes the final calls? It goes on, and for what? To potentially correct the relatively small handful of calls that umpires miss in a given game, series, or season?
We'll never find ourselves in a situation where every call is right. It isn't possible, and I'm not actually convinced that it's desirable (sports is not science). While bad officiating is not acceptable, and it deserves to be called out when it happens, the scale of the problem is nowhere near large enough to warrant remaking the fundamental structure of the game.
In other words, relax. The umpires and referees miss calls. Sometimes they go your way, sometimes they don't. It's part of the game, and I've yet to see a truly compelling argument that it shouldn't stay that way.