So Long, 'Ol FlatBrim. You'll Be Missed.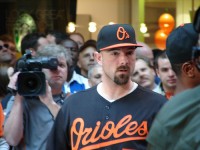 I was mostly off the grid this afternoon, and as a result I didn't get the news that George Sherrill had been traded to the Dodgers until about 5:30. You all nailed it in the comments, though, which was awesome.
My first reaction was a little bit of sadness, since The Brim has a special place in my Orioles-loving heart. But my second reaction was "good move." We got the third baseman that I thought would be critical in any deal, and a decent pitching prospect with hometown roots on top of that. All of that for a pitcher who — on the field — is replaceable.
Here's some info on the prospects:
Josh Bell is a big (6-3, 235 edit: 220 per Steve Melewski) third baseman who hits for good average and has the potential for above-average power. He's got a solid arm, and his fielding is said to be adequate but in need of a little work. He's a switch-hitter and he's young (22), and he's been consistently ranked as a top-ten prospect in the Dodgers system (#8 by Baseball America this year).
Here's some info from scout.com, and here are his minor league numbers.
Right-hander Steven Johnson throws his fastball in the low-90s with sinking action and complements it with strong off-speed pitches (curveball, changeup, slider). In 107.1 minor league innings opponents have hit just .255, and his K-BB numbers are solid at 117-45. And, of course, he's radio guy Dave Johnson's born-in-Baltimore son. Cool story there for sure.
Here's his info from scout.com, and here are his minor league numbers.
I think we'll see Bell here either in late 2010 or 2011 at the latest — and he'll be here as a third baseman. You can book that.
Johnson's harder to project, but if he keeps doing what he's doing I can see him making a bid as a back-rotation guy in maybe 2011 or 2012.
On paper this looks like another MacPhail winner. I'll miss Sherrill, but I'll also wish him the best out in LA. It'll be nice to watch him pitch in October.