Sunday Baseball and Meditations on Greatness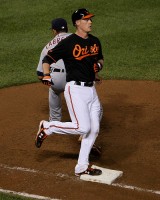 Minor surprise from Camden Yards today as Roch reports that Matt Wieters is starting today at DH. I like this move by TrembO. Get the kid a chance to step back a bit, but maintain the momentum. Smart.
If the Orioles manage a win behind Jason Berken it will mean 3 out of 4 from the Tigers, who lead the Central and were .500 on the road entering this series.
The biggest thought on my mind today, though, doesn't relate to baseball. As I type (spoiler alert), Rafael Nadal has dropped two sets in Paris to a fellow named Robin Soderling. This is the first time in his career that Nadal has dropped two sets at the French, and he's never lost there (31-0).
Should Soderling pull off the upset, and should Roger Federer ultimately advance to the finals and win, is it something of a hollow victory?
Federer has only one thing keeping him from settling into place as arguably the best player in history, and it isn't winning the French and completing the career grand slam. It's Nadal. If Federer wins the French over anybody else, people will always (fairly or unfairly) discuss it with a "yeah, but…"
I wonder if that is the sort of thing that matters only to fans, or if a great player like Federer would also himself wonder. Does a great victory mean less when it doesn't come against the best?
(photo via)