The AFC North Projections Thread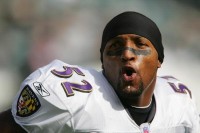 The table is set. The guests are invited and the coat-check kid stands at the ready. Starting Thursday night, the NFL is live.
With that I offer my projections for the AFC North, presented in top-down order.
Steelers – 11-5
I can hear the howls beginning already, but hold off while I explain.
We're looking at a team that won the Super Bowl last year and returns every key player. They have a coach with the right attitude ("The Super Bowl was last year") and quality veteran leadership at all positions. Plus a schedule which — on paper — looks a little more favorable than last year's.
That said, their O-line remains suspect and there are real questions about the running game. Add it all up and I expect them to fall back slightly but still take the division.
Ravens – 10-6
Last year at this time — with virtually everyone predicting an abysmal season for the Ravens — I said I saw a 7-9 team that could go 8-8. I was as wrong as everyone else, sure, but I was also much closer than everyone else.
With expectations now trending in the opposite direction, I'm again going against the conventional wisdom. I think the Ravens take a small step back.
Note that I said "small" step. Joe Flacco should have a fine year, but there will be growing pains as he adjusts to teams game planning for his skill set. Ray Rice and the other backs are a strength, but the WR corps is a major issue. The defense should be strong as usual, but I again see some growing pains under a new coordinator.
In terms of schedule, those out-of-division games at New England, Green Bay, San Diego, and Minnesota could be a problem.
This team is set up to be very good for several years — make no mistake of that. I think, however, that there will be a few more hiccups in '09 than most folks seem willing to admit.
Bengals – 7-9
Too many question marks on the offensive side of the ball for a team that faces the Ravens and Steelers four times, along with Chicago, Minnesota, and the Jets. Houshmandzadeh's gone, Carson Palmer's health is a question, and Cedric Benson is anybody's guess at RB. I hear talk that they should be good defensively, but even if that's true it's hard to imagine them making a dent.
I can't see them hitting .500. Not in this division.
Browns – 5-11
The biggest problem here? It might not be the questions about who will play QB and how good he'll be. It might not be the inconsistency of Braylon Edwards, the loss of Kellen Winslow and Donte Stallworth, or the fact that Jamal Lewis is still the starter at RB.
No, the problem just might be head coach Eric Mangini.
Mangini strikes me as somebody whose hardheaded approach isn't anywhere near backed up by his abilities. This "I won't tell you who my starting QB is" act smacks of small time and a small mind. Couple that with a fairly unimpressive (at least unproven) stable of talent and it looks like the Browns simply won't be a factor.
***
There it is. I admit it's pretty much chalk, but even after thinking about this quite a bit there's no conclusion other than: we're looking at another Ravens-Steelers dogfight.
Looking forward in the comments to your predictions. Not just for records and standings but for how the season will play out.
What do you see?