The Column, The Crow, The Game, The Show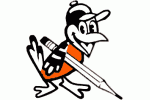 Four things the informed Baltimore sports fan should be thinking about right now, in order:
1. Get to the newsstand asap to pick up a copy of the latest Baltimore Magazine, then turn to page 116. The Loss Column is featured there as one of 101 secrets of the city. #84!
2. Terry Crowley. Haven't heard much talk of firing him lately. Seems all he needed was some talented hitters…go figure. I was as guilty as anyone, though, so no gloating. Just kind of funny to think about how perceptions change.
I got to thinking about that after reading this profile of the Crow from a Staten Island newspaper. He's more accomplished than I realized, and seems like a hell of a guy.
3. Adam Eaton stands between us and a sweep at the hands of the Janquis. This is very unsettling.
4. It's my hope that you'll tune in to Fox Sports 1370 (or listen live online) this Saturday morning between 9 am and 12 noon. I'll be guesting with the Fighting Ungers, something that should be happening a little more regularly in the coming months.
If you guys have never listened to the Ungers, give it a chance. The show is smart, sharp, and pretty much flies in the face of every rule and/or convention observed by most other sports shows. Hell, it's not even really a sports show. It's more of a culture show with a sports bent. I always have a good time doing it.
Oh, also: Nats weekend is coming up. A chance to get well, perhaps?