The Erik Bedard Trade: One Year Later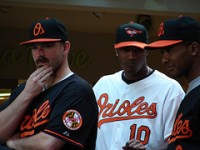 Stop, drop, and roll: today (the 8th) is the one-year anniversary of the trade that sent Erik Bedard to Seattle for a king's ransom. If you didn't realize it in time to plan a ceremony, don't feel bad. I would have missed it completely if not for this Seattle Times article (which is well worth a read).
It's odd, now, to remember that Seattle saw Bedard as their missing link. He was supposed to get them over the hump and, maybe, deep into the playoffs. Instead, he pitched just 81 innings over 15 games. Seattle went 61-101, while George Sherrill became an All-Star, Adam Jones became a symbol of hope, and Chris Tillman became can't-miss.
Seattle eventually fired pretty much everyone involved in making the trade.
Perhaps the best quote I've heard from their side is in that Times article, and it comes from former pitching coach Mel Stottlemyre: "Sometimes you get a guy and he's a little different than he looks from outside," he said. "Not to knock him, because he's a great talent, but basically he didn't have the leadership qualities I thought we were getting."
And thus the Bedard Enigma claims its latest victim. There's a part of me that still wishes he was here because, frankly, he's a fascinating person. Not that I'd undo the trade.
If you're feeling like a walk down memory lane, head over to the February 2008 Loss Column archives to see how we all felt then.