The Ghost of Johnny Poe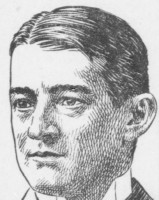 You won't often hear the terms "football great" and "soldier of fortune" used in reference to the same man. When you do you know that you're not dealing with football as we know it today, or even men as we know them today. That kind of collision comes from another era, a time when things were a little more romantic and a little rougher around the edges.
Drill down far enough into the idea and there's only one place to end up: John Prentiss "Johnny" Poe Jr., one of Baltimore's most intriguing forgotten figures.
Johnny Poe was born here in February of 1874. His father, John Prentiss Poe Sr., spent time as Maryland's Attorney General and was well-connected in Democratic political circles. Edgar Allan Poe was Johnny's grandmother's cousin. Indeed, the Poe family name was once one of the most prominent in Baltimore.
Johnny enrolled at Princeton (the Poe brothers — six in all — were Princeton men) in 1891, where he stepped in and stood out in a 34-0 victory by the Princeton Freshmen over a team called the Crescent Reserves. The New York Times described Poe as "the whole strength of the Freshman team, making several runs of forty and sixty yards and scoring three touch-downs, besides kicking all the goals."
He joined the varsity team later that year and tied for third in touchdowns. What he had on the gridiron, however, he thoroughly lacked in the classroom. He flunked out of school in the spring.
He re-enrolled in the fall of 1892 and again excelled on the field. He played both quarterback and halfback, and this time finished tied for second on the team in touchdowns. Academics cost him again, however, as he flunked out a second time — that one for good.
By all accounts, Poe's lone serious interest was battle. He regarded war as the grandest game of all, and participating in it was his singular ambition. He wouldn't get there for several years, however, as he spent time as a miner, a cowboy, a football coach (at Navy and Virginia), and at a host of other odd jobs.
He joined the Maryland National Guard and went to Cuba in 1898 to fight in the Spanish-American War. He saw no action and left utterly disappointed by that fact. In 1899 he was with the Army in the Phillipines, and in 1903 with the Kentucky militia during the so-called "Black Patch War." He again saw little action and he left, again, disappointed.
In 1907 he fought in the war between Nicaragua and Honduras. His original intent was to fight for Nicaragua, but when his boat was delayed he got off and became a Captain in the Honduran Army instead. On picking sides he supposedly once remarked that "they are both usually wrong, so it doesn't make much difference which (side) one chooses." He saw action in Honduras, but it didn't last long. He eventually returned home and was once again adrift.
His life met his ambition in 1914 with the outbreak of World War I. Regarding it as a chance to finally see the action he had sought for so many years, he went to Canada and enlisted in the British Army.
He was assigned first to artillery, but saw that task as too far removed from the front lines. He had himself transferred into the elite Black Watch Regiment — known by the Germans as "Ladies From Hell" due to their kilts and their intensity.
According to one source, Poe was at some point offered a promotion but refused it, preferring instead to remain a Private. That move, along with his overall bravery, earned him deep respect among his comrades.
He met his end on September 25th, 1915. He was on an advance mission, carrying boxes of bombs, when he took a bullet to the stomach.
As he fell he said: "Never mind me, go ahead with our boxes." By the time his fellow soldiers returned, he was dead. It's said that he was buried on the battlefield in France, but his family members were never able to locate the grave.
In their obituary for Poe, the Times remarked that his football legacy was to be "spoken of with awe in football conversations on the Princeton campus." The Princeton football field is named after him, as is the trophy awarded annually to Princeton's best player.
To the extent that he is remembered in 2009 it is for his athletic greatness. One can see why, as the past forty years of American history have not been kind to men like Johnny Poe.
I see in his story something more. A curious kind of American heroism, imperfect but fully committed, born from a deep search for meaning. I like that, and I think I might have liked Johnny Poe.