The Penultimate Minor League Week
My friends, we have nearly arrived at the end of the year for the Orioles' minor league affliates. Unfortunately, only the Sox are still in the running for a playoff spot (1 game in The Loss Column behind Reading, and tied with Erie), but it is difficult to put up much fight against declaring the season a big success for organization. John Sickels has a very good rundown on the top prospects, and I'm inclined to agree with most of what he says. In the weeks between the AFL (check out our contributions here) and the end of the season, I'll have a strong look at the incoming draft class (those who played) and see what the Orioles potentially have.
The Fremulon Insurance Prospect of the Week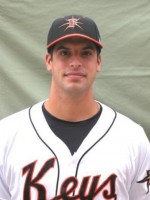 Rick Zagone (7 innings, no walks, ten strikeouts) has been part of a short list of Oriole prospects that have really jumped out at me this year. While some guys like Brandon Erbe and Ryan Adams had disappointing years for not being able to stay on the field, and other guys like Brandon Snyder disappointed on the field, Zagone pitched well, got promoted, and has continued to be pretty good at a higher level. This latest outing of pure dominance is a cap for Zagone at Frederick: 1.18 GO/AO and 2.5 K/BB in 61.1 innings. Granted that before this week the K/BB ratio was 2.0, but any pitcher that can K 10 and walk none against a strong team like Myrtle Beach (ATL) clearly has some superior talents. Zagone has definitely made it on the short list of guys to watch (I might throw out a post-season top 20 or something at some point if you all are into it).
Norfolk Tides (67-67)
The Tides began the season with a lot of potential and a lot of promise, led by Chris Tillman and Nolan Reimold. Now, with twelve of their best players off the roster (and eleven Opening Day Tides gone…can you guess the only player who does not overlap those two lists?) the Tides are sputtering into the final week back at .500 baseball, having lost six games this week. Spoiled was Jake Arrieta's brilliant Night in Rochester (7 IP, 2 H, 0 R, 2 BB, 6 K).
I blame Brandon Snyder. His weighted on base average in Norfolk is down to .295. The Orioles should be seriously wondering if Snyder is really going hit enough to be a major league quality first baseman. We're talking about guys who are 30+ home run hitters. Does Brandon Snyder really fit in with a group including Carlos Pena, Mark Teixeria, Kevin Youkilis, and even Lyle Overbay?
Bowie Baysox (68-64)
Brandon Erbe is hot, Josh Bell is not. Erbe, who has had a tough season of inconsistency (at times looking awful and at other times dominant and at other times hurt), came out dominant this week with 6 innings, 2 walks, 8 strikeouts at chief rival Reading (PHI). That's some clutch performance for you (if you believe in clutch). Bell, meanwhile, who burst onto the Baysox scene as hot as possible, is hitting just .208 in his last ten games with 2 walks, 11 strikeouts, and just 11 total bases. Ouch.
Frederick Keys (31-32)
Brett Jacobson, the right hander acquired straight-up for Aubrey Huff, has been less than successful in relief for the Keys. Eight walks to match eight strikeouts in 5.2 innings. Jacobson is a power relief arm (think Mickolio), one whom John Sickels thought highly of, and there is a large discrepancy between his walk numbers in the FSL and the Carolina League. I heard over at MASN a while ago that this is most likely due to Jacobson working more on his offspeed stuff instead of just straight fastball, which had been his focus for the Tigers.
Delmarva Shorebirds (28-31)
Last week, I opined that Xavier Avery had probably hit the wall earlier in the summer. The kid is just 19 years old and very raw and toolsy; it's only natural for him to not play particularly well late in his first full year of professional baseball. Avery clearly was displeased, and shot back this week with a line of .348/.348/.391 and 3 Ks. Obviously, Avery doesn't have any power yet, and he really needs to develop some real plate discipline skills, but he has some talent with the bat and cut his strikeouts in August down to just 17 (his lowest total for a month since May). He'll need quite a few more years, but he is at least a very interesting player to keep an eye on.
Vito Frabrizio (4-4)
Our Man Vito, champion of all that is good in the world (and supposedly the basis for The Lord of the Rings books), has been named to the Appy League All-Star Team as the only Oriole representative. Frabrizio is third in the league in strikeouts, sixth in ERA, and seventh in WHIP. On the year, Vito has a 4.0 K/BB ratio in 70 innings.