The Sports Latitudes: Philosophy Edition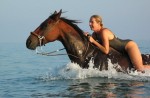 Who's excited by the fact that Tiger Woods is coming back? No? Me neither.
You've got to wonder what hardcore golf fans must think when virtually every piece of above-the-fold news their sport makes involves the movements and machinations of one player. It's an almost completely irrelevant sport, outside of the fact that a lot of business gets done while playing it.
I'm a big fan of both tennis and auto racing, though, so maybe I shouldn't say a damn thing.
Moving on…
I'm intrigued by this article from the Meadville Tribune, about Cleveland sports figure Sam Rutigliano. In it, he talks about how consistency and continuity are the keys to success in the NFL. I read it and my first thought was that the Ravens are building just the kind of organization he's talking about, and he's right. I'm thinking that it will be the Steelers and Ravens at the top of the AFC North for a long time to come. Maybe whether or not Ray Lewis re-signs.
Jumping off the NFL and its annual free agent carousel, did you see that Pink Sox owner John Henry is calling for a salary cap, going so far as to call it "inevitable"?
Of course we know he's just about the least credible source you could find on this issue, but it's still interesting that he's putting it out there. I'm curious as to where you all stand: good idea or bad?
This has nothing to do with Big Issues, but I thought it worth noting that the Blue Jays have outrighted Brian Burres. That's how you spell AAAA.