This, That, Rays, the Other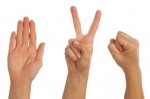 Yeah, I saw the SI article that named Peter Angelos the "worst" owner in baseball. More of the usual useless nonsense from a national writer who doesn't get it. Not that I'm defending Angelos, who has made his share of missteps, but the main reaction I had was to think about all of the Orioles "fans" who were actually happy to see it. The ones who are sad and empty.
The real news today? That Luke Scott might not be headed to the DL after all. That would certainly calm things down a bit (although I was kind of looking forward to seeing how they handled the Reimold/Salazar question).
A few items of note:
The Baysox are having a Rock, Paper, Scissors tournament on Thursday. Winner gets skybox seats and a ton of Baysox schwag, and it's only $20 to jump in. I might be late posting this, though, so get in touch with them asap if you're interested. Pretty cool idea.
Second, local sports blog Right Off Russell scored an interview with Brandon Snyder. Nice work, fellas.
Finally, MASN is having a casting call for those "defining moment" commercials. Get in there, if you dare. Also a pretty cool idea.
And, oh yeah, the Rays are in town tonight for the first of two. It'll be Mark Hendrickson against Andy Sonnanstine.
Who's got stats on the team's all-time record on T-shirt Tuesdays?