Today's Most Compelling Match?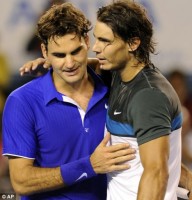 It won't end up being the Super Bowl.
Rather, it was the epic, five-set Australian Open final pitting Roger Federer against Rafael Nadal in what is fast becoming one of the best rivalries in sports. And this one…damn was it good. The deciding fifth set was a bit of a letdown, but 1-4 were just about as good as tennis sports get.
The storylines run thick and deep with these two. Federer has a legitimate claim on "best ever" status, and were it not for Nadal he'd already wear the crown. But he can't shake the kid. He makes shots that literally no other man in tennis could run down, then here comes Nadal over and over again, relentless, taking the great champion's best and giving it back plus-one.
At 27, Roger's got maybe three years left of tennis "in his prime". The way it looks right now, he might never get over what the kid has done to him. But watching him try? That's beauty. Add on top of that the fact that both players are all class, true gentlemen that fit right into the grandest traditions, and you've got something very special.
The match is coming up again on ESPN2 at 3 o'clock. Do yourself a favor and try to catch some of it, or feed it into the DVR. Great stuff.
We'll see, then, what the Steelers and Cardinals can do. The bar's set pretty high.
As for the Orioles, I'm delighted to report that I can finally answer that question you guys keep asking me: "What's up with Marty Cordova these days?" (third paragraph).
Enjoy the game tonight. Should be a (mostly) full week of posts this week.
(AP photo)