What a Difference a Week Makes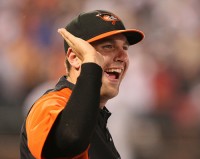 Travel with me back to Friday, June 12th. The Orioles are entering their weekend series with the Braves on the worst kind of roll. Losers of 7 of 8, they've scored just 12 runs in their past six games.
Things would get no better that night, as the Braves knocked Jason Berken out early en route to a 7-2 victory. Dark times settled upon the Charm City, and despair became de rigeur.
Since then the bats have come alive and the team has won 4 of 5. There was a serious hole opening up in the hull of SS Birdland, and they patched it.
Who'd have thought? It's a strange and beautiful game, this baseball.
Off we go to to play the Phillies, who have lost 6 of 10 and, more recently, three in a row to the Blue Jays. Don't let that fool you, though: they're the second-best team in the NL by winning percentage, and they're leading their division by three games. This series is a big-time challenge for the O's, and I'll be content if they can manage to steal just one.
Pitching matchups like so:
Rich Hill vs. Antonio Bastardo (best name in MLB?) tonight
Brad Bergesen vs. J.A. Happ on Saturday
Jeremy Guthrie vs. Cole Hamels on Sunday
(photo via Keith Allison again — this guy is good)